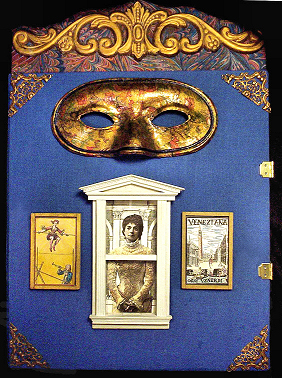 The book theater includes a humorous history of ancient theater, collages of 12 Comedia Del'Arte characters and a stage in that style with tiny useable players that stick to the stage via sheet magnets. They live in two tiny matchbook drawers set into the stage block, under the brass clasps. As the collages progress, I will include more pages in this section. This is my homage to the beauty of medieval book making, with all the bells and whistles. There will be tiny signs, in progress now, under the posters and the box office window. Altered books are slow, hard work. This is only my second attempt because these altered books take so long to make.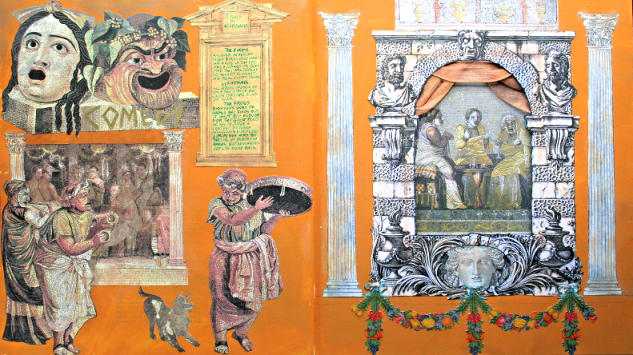 The Comedy collage on the right has humorous summaries of Aristophanes written in a Greek style script. On the right is a three dimensional collage of Roman mosaics to give an illusion of a real theater space. The Greeks invented theater, and the Romans took it in all directions from the greatest art to what we would think of as vaudeville. The history of theater is full of funny stories along with some tragedy; it's the perfect medium for a child to learn about interacting with the world, and perhaps even an adult's release from the daily grind. When I entertain at home, I always have my little theaters and roomboxes lit: they seem almost magical in a dimly lit space and the book entices people to play with it. This toy theater book would look beautiful displayed on a lecturn, or a carved book stand.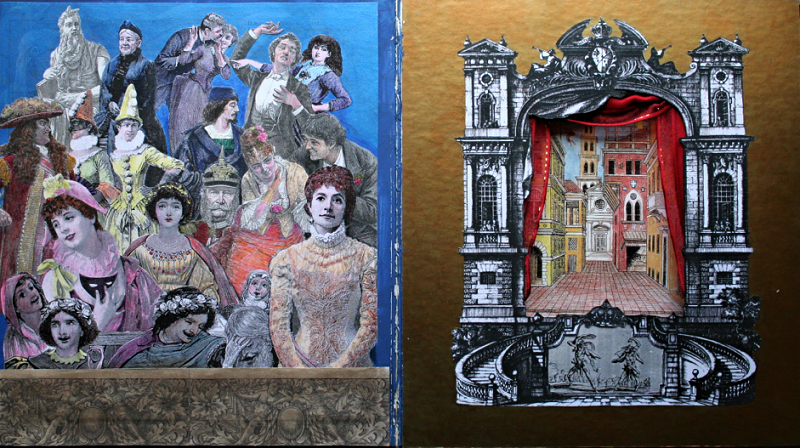 The audience is on the left (a collage of Victorian clip art) and the Toy Theater Stage on the right. This is a most complex mixed media project; it takes up to 100 plus hours to complete. This one is priced at $600, and it is actually sturdy enough for a child or adults to play with it. The best age is around ten, when a child is old enough to be careful with special toys. I love altered books because they are an entire collection of art in one small space. One of the scheduled updates is an additional page showing some of the character collages. No worthy book was destroyed in the making of this toy theater.